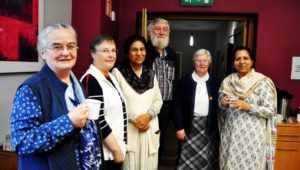 This day began with a celebration of Eucharist with Fr. John O'Brien CSsP, recently returned to Ireland after many years of missionary work in Pakistan. His commitment to sharing the good news of the Gospel has included significant work in Christian-Muslim dialogue.
In this context he paid special tribute to the work of our Presentation Sisters in Pakistan. Well-known author, John's publications include The Construction of Pakistani Christian Identity
and Seeds of a New Church – a critical look at developments in Ireland in the 1990s.
We entered into the reflection led by Fr. John on our contribution to mission in the present time: contemplation and active involvement in the lives of the people and in the issues of our place and time, each leading from and into the other.
The remainder of this day was dedicated to ongoing work on the Direction Statement from the Gathering, and initiating the task of electing the Congregational Council.