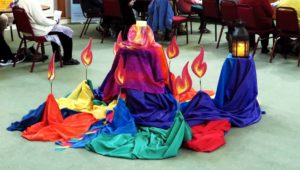 The closing of the Congregational Gathering, today, was treated with utmost solemnity. To begin, (contrary to experience of less formal events) packing and preparing to leave did not, in any way, signal a premature distancing from the main tasks of the morning. All were in attendance at the designated time, dress was formal as before, and a sense of occasion pervaded the meeting space – evidence of the commitment which has marked this entire event.
First, as was customary, there was open space for those dreams which held something for the group. Listening attentively to dreams, without analysis, was a notable feature of our time together. Connections were only suggested later, if and when they arose.
Following this, a substantial period of time was dedicated to silent recall and respectful listening to each one's significant memories from the entire experience of the Gathering. The plenary session which followed was testimony to a Gathering greatly blessed.
In due course, Sr. Mary Deane, as President of the Gathering called on each delegate in turn to sign to the outcomes of CG2018, which were then marked with the official Seal of the Congregation. This action imprints on minds and hearts the responsibility which now rests with each delegation, on return to their Units or Mission Areas, to uphold the positions reached and to invite and facilitate the full membership of the Congregation as we enter into the new phase of our life-in-mission now beginning.
And so, as we moved gently towards 1.00 pm, it was time to give thanks. Throughout the entire three and half weeks of the Gathering there had been 'gratitude moments' for all the people who contributed to the spirit and the operation of events as they happened. Included in our guests on Saturday evening were those who provided transport for Sisters as needed, and other assistants at Emmaus. Now it was time to honour those who had been, continuously, in essential supportive roles: the hospitality, décor and liturgy team, the secretaries (recording and administrative), the communications team, our spiritual companion Fr Jose Kaleekel, and of course, the Gathering facilitators Anne Lane pbvm and Judith King.
After lunch the entire staff at Emmaus were treated to prolonged and resounding applause.
If our journey forward is marked by the spirit of collaboration and mutual regard and support which has abounded in this extended community for mission, then all will be very well indeed.