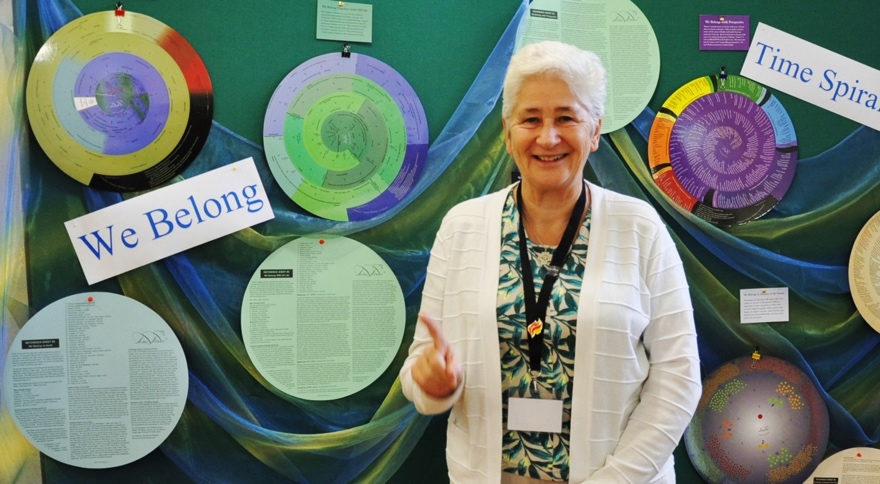 We awoke once again today to an azure blue sky, a sun-kissed city and the chirping sounds of birdsong! How abundantly Divine Providence is blessing us with such wonderful weather in recent days.
Our day began by being invited and led by Judith into Body Prayer. We focussed intentionally on the element of air, breath, spirit – the spiralling breath of the Ruah of God. As we prayed, we invoked the breath of God to flow, to breathe promise, and stir in us a new story.
Faithful to the practice of contemplative dialogue, the shared practice in our worldwide preparation for CG 2018, we reflected, listened deeply and harvested the depth of wisdom which emerged from our immersion and re-immersion into our ancient landscape at Ballygriffin and the contemplation of Nano Nagle's life. In this period of contemplative dialogue, we savoured deeply the impact and impress of God on Nano, and the shaping influences from this sacred homestead that formed and filled her life with space for the fire of the Spirit to fill her with availability and vitality for God's unfolding dream.
In the afternoon, our pilgrim feet firmly planted in Nano Nagle Place, the birthplace of our Congregation. There was tremendous joy, energy and appreciation and the wonderful transformation evidenced throughout. Once again we moved as pilgrims in contemplative mode through the Heritage Room, the Garden and Grave, the Prayer Room and the Archives. It was a well-paced afternoon, visiting two designated places, with the awareness that tomorrow affords a further opportunity.
In the Archives we were reminded of 'Transitus Domini' – the passage of the Lord through our sacred lived story, a sacrament of the word, memory committed to writing, leading to grateful remembrance, a reminder of our identity, our rich patrimony, and the fact that memory is also prophecy.
As delegates to CG 2018 we are called as we journey onwards to treasure the memory, the tradition and patrimony of all those women of zeal who have gone before us. They trusted in Divine Providence to guide their pilgrim way in their time and place and we will do likewise in our time.
Submitted by: Sr Anne Lyons, pbvm, Cambodia Mission Area