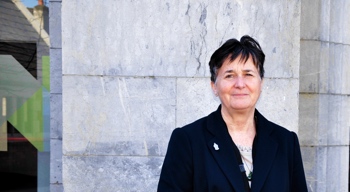 It's wonderful to see so many of you gathered here this evening to celebrate the Tercentenary of our beloved Nano and on behalf of our Sisters gathered here and the Presentation Congregation throughout the world I extend gratitude for your presence with us. I mention in particular Bishop Buckley, Bishop O'Reilly, Rev Fathers, Brothers, Sisters, Friends of Nano, co-workers and invited guests – aware that many of you have travelled from all over Ireland and beyond to be with us this evening.
Since our Congregational Gathering (Chapter) coincides with the 300 birth anniversary of Nano, Cork was the obvious place to begin our journey of the Gathering. I think I can say on behalf of the 55 delegates – representing Presentation Sisters from around the world – this has been like a coming home for us all, returning to our spiritual roots, our spiritual home.
The theme of our Congregational Gathering: Nano Aflame…stoking our passion, becoming fire…radiating love was captured so beautifully by the students who performed earlier in the North Cathedral.
It was wonderful that we arrived early and were present for the beautiful programme performed by the students of Christ King Girls School and Bunscoil Chríost Rí, Turners Cross.
We are just in awe and appreciation of the talent and also the planning, hard work, commitment, time and energy that has gone into this programme. So to all our students, principals, teachers and parents and our Tercentenary committee – we say a heartfelt thank you.
I would also like to thank the Parish Priest, Rev Fr Eoin Whooley and the Parishioners here for their welcome and the lovely décor here in South Parish.
In our walk this evening we retraced the footsteps of Nano, from the North side to the South side, stopping at the sites of Nano's different schools at Brown's Hill, North Gate Bridge and Philpot Lane. Sr Emer Madigan led us on this journey recalling with enthusiasm and great attention to detail the story of Nano and her daily journeys throughout the city.
When we reached the Nano Nagle Bridge, Sr Mary O' Brien gave a beautiful salutation to Nano which captured the essence of who Nano was and how she was sustained and nourished by God to passionately respond to the cries of the poor… risking all for the sake of the poor Catholic children. This was followed by a trumpet salute to Nano by the Junior Barrack St Band who accompanied us here.
We are only sorry that due to health and safety reasons, more of you could not join with us on this walk but we hope you will be able to also experience something of this journey through the sharing of the Sisters and the recording of the event.
Walking through the streets with our lanterns evoked the story of Nano and also reminds us of our call to follow Jesus, to be people who live in the light and to bring the light to our troubled world of today just as Nano did in her time.
A call that was echoed recently by Pope Francis – in his letter – Gaudete et Exsultate: Rejoice and be glad, Pope Francis reminds us that we are all called to be holy, to be our very best selves, to use the gifts that God has given each one of us for the good of our world today.
We pray for the gift of the Spirit which set Nano aflame and that like Nano we too will become a vibrant fire, radiating love as we seek to live in communion with all of God's creation especially those made poor. God of the journeys, be with us.
Amen